If you are visiting our site, you are here because you are a dog-lover and you believe in the magical connection between humans and canines. You may have a special dog you would like to share with others. Or, you might like to start a therapy dog program to brighten the lives of others. We welcome you to explore our Web site to learn more about Bright Spot Therapy Dogs, Inc.
As you check out the various sections of our site, imagine for a moment what a bright spot it would be in a lonely person's day to have a visit from a certified therapy dog. The simple act of stroking a dog's head can lower blood pressure and stimulate conversation and physical activity. Imagine, too, how a child who is struggling to learn to read in a traditional classroom surrounded by other students can feel relaxed and unthreatened by the comforting presence of a canine reading buddy.
---
COMMUNITY OUTREACH: BAYPATH COLLEGE STRESS-RELIEF EVENT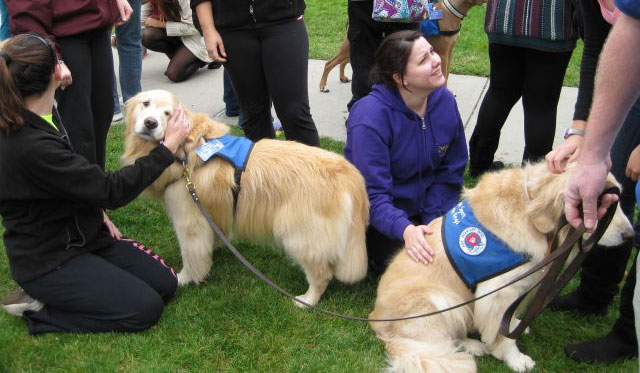 On October 10, 2013, hundreds of students at Bay Path College in Longmeadow, MA, gathered outside on the terrace next to the Blake Student Commons to spent time petting and hugging each Bright Spot Therapy Dog that attended the Stress-Relief Event held on campus. Clouds held back the sun, but they didn't prevent our gentle, friendly Bright Spot Therapy Dogs from providing a pleasant break from studies during the College's mid-term exam period. Twelve therapy dog teams in all filled the large terrace, dogs of all shapes and sizes. This Bay Path College Stress-Relief Event was the fourth such event we have held on college campuses this year. Four more college events are planned before the end of 2013. Faculty and staff, as well as students, loved having the therapy dogs on campus. The dogs loved being there - and our dedicated Bright Spot volunteers enjoyed sharing their dogs in this way. It's interesting and fun to spend time talking with the college students. A win-win situation!
MISSION STATEMENT:
Bright Spot Therapy Dogs, Inc. is a registered 501(c)(3) non-profit organization dedicated to placing well trained certified therapy dog teams in meaningful programs that provide comfort and caring through the human-canine bond. Our special volunteers serve in a wide variety of settings including hospitals, nursing homes, schools, libraries and other facilities where therapy dogs are needed.