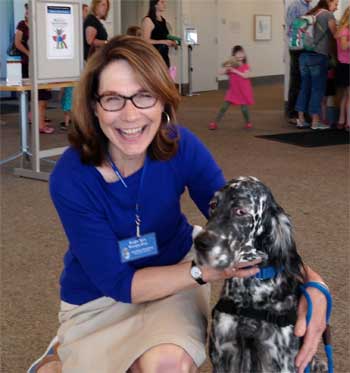 Founded in 2004 by Cynthia Hinckley, Bright Spot Therapy Dogs set out on a mission to encourage volunteer teams to share the benefits of the human-canine bond with those who need it most.
In its first fifteen years of operation, Bright Spot grew from servicing 5 facilities to more than 300. Through the efforts of its talented board of directors and a core of dedicated volunteers, word about Bright Spot Therapy Dogs spread throughout the Pioneer Valley of western Massachusetts. Today, Bright Spot Therapy Dogs has trained over 700 therapy dog teams, and has more than 300 healthcare, educational, and business facilities throughout New England and beyond requesting the volunteer services of our well-trained therapy dog teams.
With the continued support of donors, sponsors, and foundations, Bright Spot has been able to add new programs, as well as continue and grow our established programs. These special programs serve to build confidence in young school-age children, bring smiles to the faces of our veterans, relieve stress in patients in mental health facilities, comfort those on hospice care, offer companionship to residents in assisted living facilities, soothe weary travelers in airports, and much more.
Bright Spot is proud to be recognized by news outlets around the country and world, including Mass Appeal, WWLP NBC Channel 22 News, Daily Hampshire Gazette, Springfield Republican, Hartford Courant, Lonely Planet, and Reforma Newspaper/Mexico. These features allow the organization and its volunteers to continue to spread the word about its programs and commitment to communities around New England.